February 28 Luncheon of 65 Girls -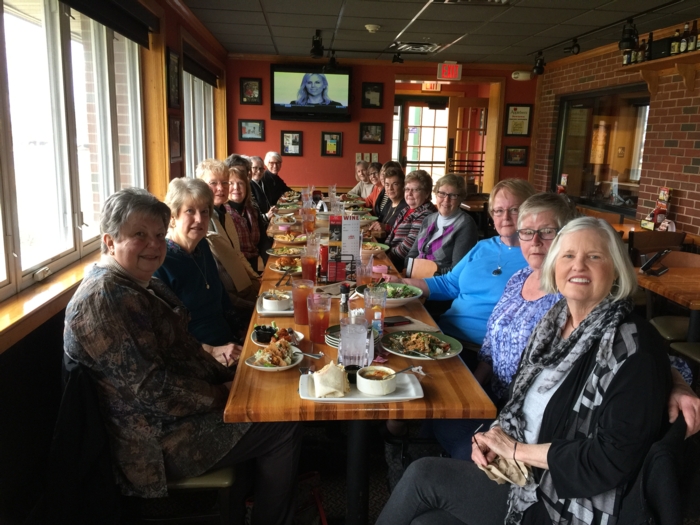 More…/>
Judy Kirkpartick LaPorta wrote a great summary of all the sharing that took place on (Wednesday, Feb. 28th, 2018 at the most recent 65 Girls' Luncheon). " We shared good news, events, happenings, family stories, adventures, asking for prayers and the best of camaraderie. Due to my schedule I have missed several months of the get-together's and was so happy when I knew I was going to be able to spend time with the 65 Girls today. Pam announced the wonderful news about Jennie's daughter, Corinne, passed out Valentine's Hearts from Wanda who had intended on being there but was unable to do so because of health issue and made other announcements as well. I have to confess right up front, I did not hear all that Pam announced. I know I missed some of the wonderful stories that we shared today but I will do my best to give you the highlights and what I did not forget between PA and NJ. I suppose are age is showing as we had to get the piped in music turned off so we could hear, the heat turned off to halt the hot flashes and thank goodness our waitress was delighted to wait on us, even with all our chatter, indecisions and not paying attention.
Gale came up with a great idea to have each of us share something with the group. -Linda (Weber) is taking jewelry classes at the college, goes to her mother's (90 plus) home once a week for dinner and spent her morning chasing a cow, Her jewelry making skills are incredible and she wears many of her eloquent pieces wonderfully. I talked about my recent and continuing travels promoting camping as well as my volunteer work for CASA. Nancy Brown just returned from 11 days basking in the Myrtle Beach sun, shared a pic of a great grandchild playing soccer (2 years old) and how it is her job to keep her husband busy. Linda (Wiggins) is very busy with volunteering for her church for two months when they bring the homeless in for a place to sleep, snacks and a meal. Marji just became a grandmother again, watches some of the other grandchildren and keeps John busy. Carol and her husband are weekly volunteer workers at a church thrift store and I believe she also volunteers for a food pantry once a week. MaryAnn is busy with her full time job that involves a family business, her grandchild and trips to her home in the Keys. Pam was happy to announce that she got hired by Insight (independent contractor) so that she could continue her long time position with CR making sure the classrooms had a substitute teacher in them, she let us know about the loss of her brother in law and that she enjoys long walks and spending time with her nieces, nephews and her sisters. Barbara (Blake) went to see the Jersey Boys I believe with her granddaughters, Barb and I were totally at opposite ends of the table and I apologize if I missed something. I am not sure if she is still working, as I kind of think she enjoyed her position at a children's clothing store. Gale let us know that the family pet of many years passed away which has been a real challenge for her and her husband. She is currently managing the marketing for Breezy Day and looking forward to retirement once they are able to finalize the sale of the business. Gales mother recently passed away which now includes all of those things one must do to get an estate in order and she and her husband are going to Mackinac Island soon. Betty enjoys every minute she spends with her grandson, Cody. Right now he is involved in swim meets and has done very well. Betty and her grandson have traveled a great deal and she recounted two special memories of him on a glacier in Alaska and a trip (helicopter ride) in the Grand Canyon. Her other grandchild is two years old and she has asked for our prayers for her son, father of the two year old, who is having health issues that have required several operations and many hospital stays. Nancy (Messick) announced she just turned her resignation into her place of employment but it does not appear as if they have accepted it. She and her granddaughters recently took a trip to American Girl in NY and she shared some of the details. She and Bill are also planning a trip to Mackinac Island. Charlotte is the grandmother of 20 with the latest grandchild being born last week. She has 10 grand boys and 10 grand girls. She and Joe are still running their machine shop which includes making parts for many of the ships in the Navy and Coast Guard. The send parts for these ships/boats over the world. She let us know Joe is doing much better and has gained weight. Interesting enough I found out she is not 70 yet and won't be until June. Beth is working part time, spends time with her grandchildren which includes a set of 7 year old twins and let us know that her husband is having a procedure this week and asked for our prayers. Cheryl is very active with her church bazaar committee as well as making mats for the homeless. She delights in taking care of her granddaughter several times a week and that they enjoy gardening and other things in common. Cheryl loves taking long walks with her dogs and that she is going to see Pink in a few months. Dianna is busy with her music and activities with her church as well as shared with us that she also is still trying to settle her parents estate We all know that Dianna is also a crafty person and works on many projects that she shares with others Dotty does charitable work that involves the homeless and again I apologize as I do not remember exactly what it was but she did express her heartfelt feelings about the needy and how much they appreciate those who give their time for them. Dotty and her husband are always travelers but are on a hiatus right now as he has a herniated disc that needs attention. Peggy announced that she was retired for good now after returning to the work force and retiring several times. She recounted a recent trip that she and her husband took with Tim and Patty Traister to a resort in NY and sung the praises of her husband and how much she appreciates his cooking, cleaning, gardening etc. Many of the girls asked if she would lend him out once in a while.
We were all thankful for Corinne's news from the insurance company and the current treatment strategy and look forward to Jeannie's return to the group. We all shared in the joy of the two new grandchildren. We promised to pray for those who need our attention and thoughts. We paid the bill and once again shared our appreciation to Pam for keeping us together.
As we departed the noise level of the room rose to chatter, laughter and hugs. Groups gathered in the parking lot as we retreated to our cars, goodbyes and see you soon were the sentiments you could hear.
If I forgot something or left some part of your snippet of life dangling please share it with all. If you were not able to join us today we would love for you to share with us what is going on in your life, the good, the bad and the ugly. Remember, we are that special class, the 65 CRHS girls that get together, that Diana so eloquently said, at this time, no clicks or groups, all equally on the same playing field, and as Betty reminded us there were several at the table that have known each other as far back as preschool and what a special memory of them riding a bike to the creek together.
Life is good my dear classmates and finding the time to share makes it even better
So hoping I can make it at our next time together, in the meantime, I send you hugs, love, peace and joy!!!!
Judy
ps-I hope like heck I did not forget anyone.