I RECEIVED SAD NEWS THAT LYNN FESMIRE ELINICH PASSED AWAY ON FEBRUARY 7TH. THE VIEWING SERVICES WILL BE AT CAMPBELL'S IN RICHBORO ON THURSDAY FEBRUARY 14TH. FROM 9:30 A.M. TILL 11:00 A.M. WITH A MEMORIAL SERVICE FOLLOWING AFTER THE VIEWING. IT SHOULD BE IN THE PAPER IN THE NEXT FEW DAYS. PLEASE KEEP LYNN'S FAMILY IN YOUR PRAYERS. GOD BLESS, LOVE, PAM Camilla Rook Below is the Obiturary Gale found in the Bucks Courier Times Sunday February 10th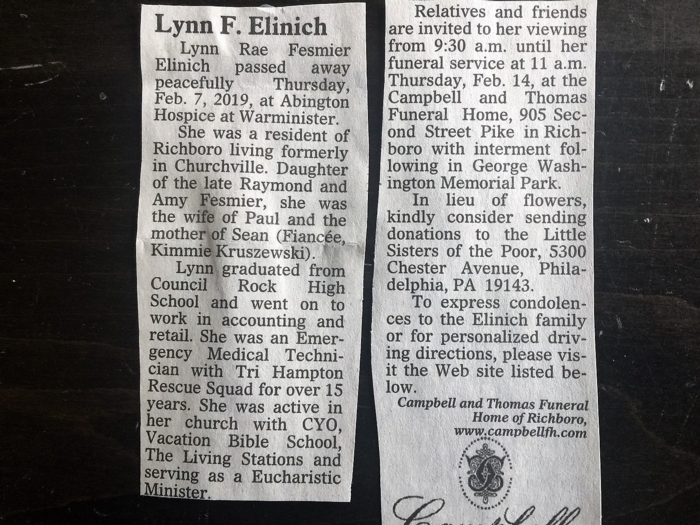 I met Lynn when she started at CR in 9th grade. I can't remember when she wasn't in my life in high school and the 4 summers following graduation from CR. Lynn was the Maid of Honor in our wedding in 1969. Even though distance continued to keep us apart (I kept moving) she was always there when I came back to Richboro to visit my family.
I continue to find pictures of proof of her sense of humor (see pictures). Lynn's faithful husband, Paul, took the picture of the four of us on their family room couch 1992? The laughing picture was taken in 1967. Love you, Lynn!
It is with deep regret that I cannot attend Lynn's services, but hope that others that can will remember me to Paul, her son Sean, and other family members and friends.
Sincerely, Barb Jerrom Topham